ON SALE NOW | $26.95 +tax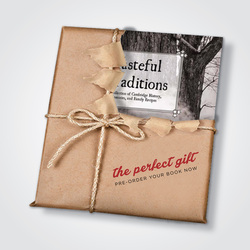 Tasteful Traditions contains a collection of recipes, stories, and photos that celebrate the food, memories, and people of Cambridge, Vermont. It also touts by-gone businesses by showcasing historical advertisements, newspaper articles, and photographs, allowing us a glimpse into such places as tea rooms and mercantile stores. More than just recipes and photographs, this book contains the love and pride Cambridge residents have for our local land and for each other.

Chartered in 1781 by Governor Thomas Chittenden 10 years before Vermont's admission to the Union as the 14th state, Cambridge, Vermont grew quickly along the banks of the Lamoille River in north central Vermont. By 1812, there were 327 children enrolled in the small schools that dotted the countryside. With the expansion of the railroad, Cambridge became a thriving community by the mid-1800's and boasted the first woman Superintendent of Schools in 1883, the infamous Cambridge Double Bridge (now at the Shelburne Museum), and no fewer than five additional covered bridges. Life at the base of Vermont's highest mountain, Mount Mansfield, continues to thrive in Cambridge, Vermont, albeit at a slower pace than the rest of the world, which suits its current residents just fine.


---
100% OF PROCEEDS GO TO THE CAMBRIDGE HISTORICAL SOCIETY
Tasteful Traditions
is on sale now!
To purchase, complete the form below with desired means of purchase or
purchase at one of the below retailers:
The Farm Store
(143 Main St, Jeffersonville)
Cambridge Village Market
(113 South Main St, Cambridge)
Thank you!
Payment options:
Mail
a check payable to Cambridge Historical Society to Justin Marsh c/o Cambridge Historical Society, P.O. Box 153, Cambridge, VT 05444 (If ordering in Vermont, please make sure to include 6% sales tax – see table below)
Phone
802.730.2383 to pay via credit card
Pay
Online
via
Square
Purchase with check or cash
in person
at the next Cambridge Historical Society event or at one of our listed retailers (see above)
| | | | | |
| --- | --- | --- | --- | --- |
| Item | Quantity | Price | Tax (6%) | Total |
| Tasteful Traditions | 1 | $26.95 | $1.62 | $28.57 |
| | 2 | $53.90 | $3.23 | $57.13 |
| | 3 | $80.85 | $4.85 | $85.70 |
| | 4 | $107.80 | $6.47 | $114.27 |
| | 5 | $134.75 | $8.09 | $142.84 |